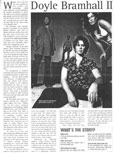 DOYLE BRAMHALL II
Michael Heatley
WHILE HE'S OUT ON the road opening for Eric Clapton and promoting his third album 'Welcome', Doyle Bramhall II has another production in mind. "My wife is seven months pregnant. She's going to do the first half of the tour, the English portion of it, then she's coming back and she'll come out some time in the States when we've settled a little."
Mrs Bramhall, alias Susannah Melvoin, is daughter of jazz pianist Michael Melvoin and sister of Wendy of Wendy and Lisa fame. She also pens many of the lyrics and sings background with Smokestack, the power trio comprising drummer JJ Johnson and bass player Chris Bruce that puts Bramhall's music over with a swaggering punch.
Though 'Welcome' is his third musical 'child', Bramhall regards it as "My first real shot at the public. The other records I made didn't sell a lot, even though the right people heard them. Normally I'd have two or three really good songs and the rest were not fully realised, but this time every song is fully realised. It's the only record I've ever made I have to sit down and listen to 'til it's done."
His background is certainly promising: dad Doyle Bramhall was a songwriting partner to Stevie Ray Vaughan - "the last three records were basically a collaboration" - who also played with Stevie's brother Jimmie in the Fabulous Thunderbirds. He went on to co-front the highly-touted Arc Angels with former teen prodigy Charlie Sexton. Then came a self-titled album on Geffen in 1996, followed three years later by 'Jellycream' with current label BMG.
The big break came when Eric Clapton covered two 'Jellycream' songs, "Marry You' and 'I Wanna Be', on last year's acclaimed collaboration with BB King, 'Riding With The King', and asked Doyle to play on the tracks. Then came an invitation to tour the world, as well as contribute another song, 'Superman Inside', to Slowhand's upcoming solo release. Prior to this, Bramhall had completed two US stints in Roger Waters' band, playing the David Gilmour vocal role. Bramhall credits Waters with a big influence on his music.
"He works on an epic scale that's completely different to what I do, an architect who builds up the show and really connects with audiences. There's always some kind of thread running through everything he's doing...and that's had an effect on the way I think about songs and songwriting."
It's inevitable Bramhall will be hailed in some quarters as the next Stevie Ray Vaughan - but label him at your peril. "I've always had a problem with that, from knowing Stevie and growing up with him. When Hendrix died it was, who's going to be the next Jimi: Robin Trower, Randy Hansen or one of the other guys? They were successful for three or four years, then went away like it never even happened. It was the same thing with Stevie: people wanted to fill the void with bad music, but he was the only one who could do that - and it's gone."
Influenced by Lightning Hopkins, Albert Collins, Freddie King and Bobby Bland, ask him to categorise his own music and he'd unhesitatingly put it under rock.
"When I think of a bluesman I think of a traditional, authentic person that went through extremely hard times and needed to write about it, come up with his own songs during the week to get by. I love blues, I listen to it and I'm influenced by it - but I would by no means call myself a bluesman."
When Doyle and Eric have discussed SRV, "he just talks highly of him, what an amazing musician he was and about this fire he had inside. Eric really respected Stevie in that way." On the evidence of 'Welcome', the Fire still burns...if in distinctively different hands.
WHAT'S THE STORY?
WHO IS HE?
A 28-year-old Texan southpaw guitarist and singer.
WHAT IS HE LIKE?
American blues-rock infused with a decidedly British feel.

WHY SHOULD WE CARE?
Because with Eric Clapton and Roger Waters as paid-up fan-club members there must be something interesting going on here, right? Call it Southern rock for the next generation.

HOW CAN WE CHECK HIM OUT?
On the worldwide Eric Clapton tour during 2001. His new album 'Welcome' is reviewed this issue, page 70