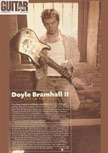 DOYLE BRAMHALL II OUT OF THE BLUES
By Andy Langer
"I've always wanted to be known as something more than a blues guy," says Doyle Bramhall II, a guitarist still known best for his teenage association with Stevie Ray Vaughan, the Fabulous Thunderbirds and Double Trouble's first post-Stevie outfit, the ARC Angels. But his heavy blues past notwithstanding, Bramhall is starting to look like he's on the right path. Throughout the summer, Bramhall handled the guitar chores for Roger Waters' new touring outfit. And now the Texan is playing in support of a new and decidedly blues-free solo album, Jellycream. "It might have been easy to go in and cut 12 blues songs," says Bramhall. "But it wouldn't have been so easy to come across as if I were 100 percent into it. That's just not where my head or heart are at right now."
Jellycream makes it clear that Bramhall's new focus is on Seventies-style classic rock dynamics. But don't mistake a lack of blues for a lack of guitar. In fact, the bulk of Jellycream is so guitar-driven and so anthem-oriented that it seems to pick up where the ARC Angels left off back in 1993. "I think I disappointed a lot of ARC Angels fans by staying away from the guitar on my last record," Bramhall says of his commercially unsuccessful Wendy & Lisa-produced solo debut. "But I think this record has a much larger guitar focus and a lot more energy. I'd say it's closer to the ARC Angels than anything I've done since, but you've got to remember, that was the early Nineties and I've heard and learned a lot since then."
Perhaps the primary post-ARC Angels lesson Bramhall has picked up on is how to play more for the song and less for the flashy solo. ''Jimmie [Vaughan] taught me how it's possible to be a subtle guitarist and still stand out," he says. "And I think this album shows I can present hard-rockin' stuff without lots of wankin'. But that doesn't mean that everything I can do isn't on this record somewhere. Only now, it finally feels like it's all come together."