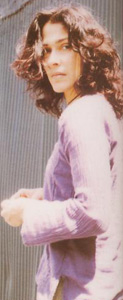 Susannah has been surrounded by music her entire life, and began in this business singing advertising jingles at the age of eight. Her father is legendary jazz keyboard player Michael Melvoin, and Susannah has been a long-standing member of her twin sister's band, Wendy & Lisa.
In her career Susannah has written for and performed with influential artists and producers such as Quincy Jones, Trevor Horn, Don Smith, Don Was, William Orbit, Tchad Blake, Mitchell Froome, Prince, Seal, Madonna, Mike Oldfield, Eric Clapton and B. B. King, The Grid and Neil Finn of Crowded House.
Her most recent work has been her collaboration with husband Doyle Bramhall II. They write together, record and tour, Susannah contributing vocals.